We offer watch dial restoration and watch dial repair services on all types watches.
The watch dial (also called the face) is where the time is displayed.
Clock Master offers replacement and refinishing services and can custom manufacture any dials if needed.
We also offer watch hand refinishing, repair, or replacement in needed.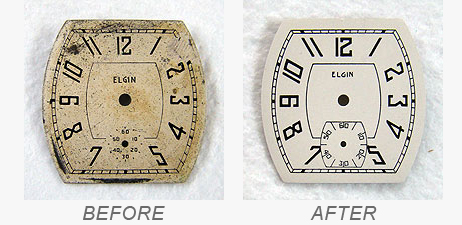 Watch Dial Refinishing:
Refinish dial as original or custom
Change color
Many finishes and treatments
Replacement Dials made to your specs
Markers replaced, repaired, re-painted
Hands Refinishing
Refinish hands as original or custom to your specs
Change paint color
Many surface finishes and treatments
Replacement hands made to your specs
Hands replaced, repaired, re-painted
Hands polished

The Clock Master is an independent watch repair company and is not affiliated with Rolex or any other watch brands. Any use of names or images on this site
is solely intended for identification purposes